Early Life

Argus Harrison Taylor was born off in Port Royal, Jamaica on January 8th, 1698. To his parents Merlin, and Amanda Taylor, two merchants. Taylor grew up in the middle of town. He always enjoyed watching the Guards march around. Sometimes when he was 10, he marched with them. Cause he thought it was always fun. He planned on joining the Empire when he grows up. But mother always told him "No". On January 7thm 1708, Merlin decided to go work after hours and sell more cloths, and foods to the people. He was robbed and murdered on that night. Leaving Argus angry and filled with rage. His father's death impacted his life as if he was the only man left on Earth.
Jolly Roger's Invasion
July 16th, 1721, the undead, evil man, Jolly Roger invaded Port Royal, killing everyone in sight. Fighting off several skeletons, with his mother, Argus turned around and saw his mother be stabbed right in the heart and her fall to her death. Argus turned back and was knocked out. Laying in the middle of the battle. Unconscious..
The Assassin's Order
in 1740, Argus started the Order. The Assassin Order. He trained himself to climb walls, doge attacks and even consider him a mentor to others. Though he had nobody to train.
Edward Vulture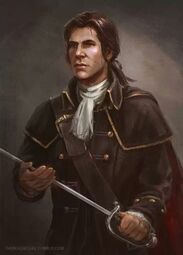 In 1743, A man Entered Argus's home. Asking for training. So.. Argus trained him to be an Assassin. It took about a years work but. Edward was well trained. Edward took his knowledge, and without Argus knowing, he assassinated several people. Those casualties were Captain Warden Malistare, Mercer Kingsleigh, Doctor Patrick Heiner, and Cutler. Cutler was an old friend who owned Edward money. Mercer was in the EITC. Doctor Patrick was a dark man, and Malistare sunk Vulture's light sloop merchant ship.
Through The Years
Argus was a man that lied low. He assassinated The undead, and he sometimes Assassinated EITC Mercenaries bullying people in the Port Royal Town.
Ad blocker interference detected!
Wikia is a free-to-use site that makes money from advertising. We have a modified experience for viewers using ad blockers

Wikia is not accessible if you've made further modifications. Remove the custom ad blocker rule(s) and the page will load as expected.