The EITC Catalog is a collection of uniforms in which the different ranking members of the EITC and Royal Navy/Army are required to wear
Founder of Catalog - Captain Robert
Photographers - Simon TreasureHawk, Edgar Wildrat
Main Outifit
Edit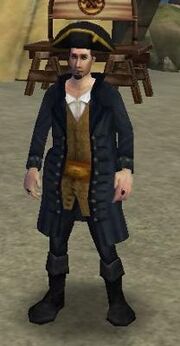 Admiral Hat - A very expensive hat that many great and powerful leaders of the EITC wear. Comes from England made from the finest leather and golden ring around the hat.
Adventure Coat - Made from the finest silk and leather buttons that England can buy. Dyed with a special black dye that could only be found in England.
Adventure Breeches - Fine English leather, very expensive and very comfortable. Dyed with a special black dye that could only be found in England.
Adventure Boots - Real Indian leather that is super expensive and only imported by the EITC ship of the line warships.
Fine Silk Shirt - This shirt is made of the finest silk from India. Expensive but EITC are given it for free, while others may have to pay.
Embellished Vest - Traditional for the EITC to have something that resembles their power and wealth. It comes in different colors and more commonly yellow.
Gold Skull Belt - So those breeches don't fall. The Gold Skull Belt is made of purest gold from India. Special Thanks to the East India Company Imports.
Cost: Quest Items and around 5000 gold pieces.
Admiral Outfit
Edit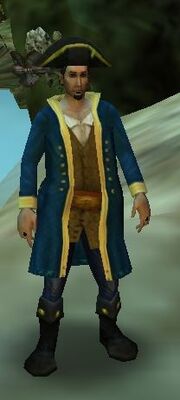 This uniform is designed to show your wealth. This is worn by great EITC leaders and Generals. The jacket is made of pure gold and silk that comes from places all over the world.
Admiral Coat - Elegant coat. Golden buttons, cuffs, and interior. Beautiful sea blue silk to show your wealth and power in the Navy.
Admiral Breeches - Made of beautiful blue silk imported from India.
Blue Fur Top Boots - Beautiful, pricey boots. Only the highest ranking members of the Navy wear these.
Embellished Vest - A golden vest to show off your power and wealth.
Silk Shirt - Beautiful shirt made of rare Silk imported from India. Only the rich men of Britain wear this.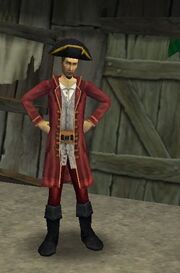 Admiral Hat- Very fancy and expensive hat that shows power in the Navy.
Club Coat- The official coat of the Royal Navy, made of the finest material.
Festival Breeches - Very stylish and expensive to obtain. Made of the most expensive silk in England.
Silk Shirt - Formal, official and shows wealth.
Embellished Vest - Showing power and wealth in the Navy.
Adventure Boots- Standard Navy boots, made of the most expensive leather.
This outfit is the official outfit for Royal Navy members!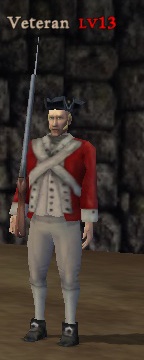 The Diplomat hat- Very Brilliant and expensive hat, used by the British Army and Navy.
Navy Jacket- Royal Navy's finest jacket which is used by the men.
Cotton Trousers- Standard Soldier pantaloons.
Blue Fur Top Boots- Expensive beautiful boots.