After the shock of recent events, England was in a rough spot. Today, First Sea of the Admiralty Sven Daggersteel, and Prime Minister Johnny Goldtimbers, took about 10 men to the French island for training. Every man had respect, and was in some what, proper uniform. Everybody treated each other like family, there was no disrespect at all. All these men showed quality in their training, ready for anything. Their SvS skills were amazing, as well as PvP. God save the King!
Commands were used to train these men.
Commands Edit
Shoulder Arms -(Take your musket out)
Present - (Aim) then fire
Stow Arms-(Musket Down)
En-Garde-(Sword Out)
Stow Arms-(Sword Down)
All these commands were historically used around the 1700's.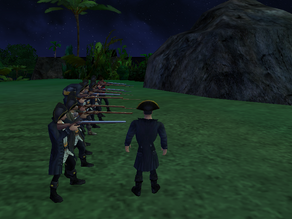 Ad blocker interference detected!
Wikia is a free-to-use site that makes money from advertising. We have a modified experience for viewers using ad blockers

Wikia is not accessible if you've made further modifications. Remove the custom ad blocker rule(s) and the page will load as expected.