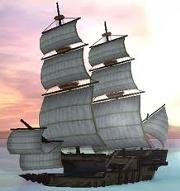 HMS Wild Rose Was and Is the flagship of Commodore
Charles Hawkestone
.
She Has Been receiving numeral Repairs Recently after a fierce battle with pirates and therefore is in dry dock in Boston. She will return soon to the High seas.
HMS Wild Rose Has now returned to active service and is currently patroling the seas of the abassa server. She is based in Port Royal at the moment and is currently hunting the The Bucaneers Revenge which is under the command of the notorious Pirate, Captain William McSwain, The Son of former Naval Officer Lawrence McSwain. HMS Wild Rose is armed with 44 gun Two Decker Frigate of the line. Charles' ship battles mostly the Bucaneers Revenge. She also is battling Jolly Roger.
Ad blocker interference detected!
Wikia is a free-to-use site that makes money from advertising. We have a modified experience for viewers using ad blockers

Wikia is not accessible if you've made further modifications. Remove the custom ad blocker rule(s) and the page will load as expected.