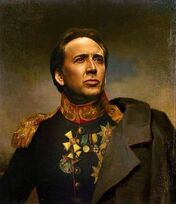 The 
Harrington ministry
, was a British administration officially led by the Earl of Wilimington, Lord James "Usman" Strider, but generally led by the Lord President of the Council, the Earl of Harrington, and the Southern Secretary, the Duke of Newcastle. The administration took power at the height of the Paradoxian War, and was dissolved after the death of the Prime Minister and the ascension of Lord Newcastle as Prime Minister. 
The Ministry
Edit
Office
Name
Term

First Lord of the Treasury

The Earl of Wilmington
1742-1745

Lord President of the Council

Commander-in-Chief of the Forces

The Earl of Harrington
1741-1745
Lord Chancellor
The Duke of Newcastle
1744-1745
Lord Privy Seal
Jeremiah Stormwash
1743-1744
Secretary of State for the Southern Department
The Duke of Newcastle
1742-1744
Secretary of State for the Northern Department
Edward Daggerhawk
1742-1745
Chancellor of the Exechequer
The Lord Edgecumbe (Captain Shadow Sail)
1743-1744
Master-General of the Ordnance
vacant
--
First Lord of the Admiralty
Matthew Blastshot
1744-1745
Ad blocker interference detected!
Wikia is a free-to-use site that makes money from advertising. We have a modified experience for viewers using ad blockers

Wikia is not accessible if you've made further modifications. Remove the custom ad blocker rule(s) and the page will load as expected.