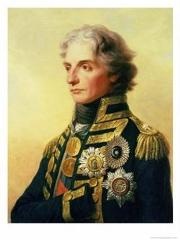 Horatio Nelson is an NPC found on
Port Tariff
, inside
Fort Fredrick
, inside
Fort Nelson
, or other locations, depending on the quest. He is similar to Jack Sparrow, in the fact that he can appear in different locations besides
Port Tariff
during quests. He has not been seen to turn hostile.
Quests Seen In
Edit
In development
Naval Defense Commander
60-70
15,000
A sabre has been seen strapped to his belt, as well as an Assassin's Pistol.
Ad blocker interference detected!
Wikia is a free-to-use site that makes money from advertising. We have a modified experience for viewers using ad blockers

Wikia is not accessible if you've made further modifications. Remove the custom ad blocker rule(s) and the page will load as expected.