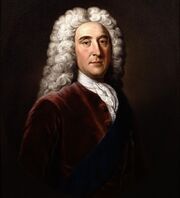 The 
Second Newcastle ministry
(commonly referred to as the 
Newcastle-Grey ministry
) was a British government which served from 1749 onwards, at the height of the Return to the West Indies. It was headed by the
Duke of Newcastle
, who was serving in his second term as Prime Minister. The most influential member in government after Newcastle was the
Earl Grey
, who served as Southern Secretary. 
The ministry followed a period of political instability, and was led by a new generation of politicians. Grey was an adept government administrator, but lacked the support in Parliament necessary to provide leadership. Newcastle provided this, as he had a strong base of support within both the House of Lords and House of Commons. 
Tasks where divided between them, and most government policy essentially came out of meetings between Newcastle and Grey. 
The Ministry
Edit
Ad blocker interference detected!
Wikia is a free-to-use site that makes money from advertising. We have a modified experience for viewers using ad blockers

Wikia is not accessible if you've made further modifications. Remove the custom ad blocker rule(s) and the page will load as expected.