Venabulis Vinco "I conquer with hunting spears"Edit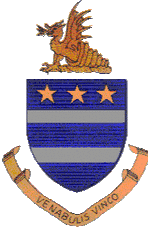 The Venables are a Scottish family with French, English and Welsh connections. The current head of the family is Sir Richard Venables, 1st Duke of Argyll.
The main seat of the Venables is in Finlaystone, Agryll Scotland and is the Duke of Argyll's main residence as well as being the seat of the Earl of Finlaystone. 
The Venables hold influence in parliament and in the British Royal Army.
Sir Richard Venables - Patriarch of the Family
Lady Hannah Venables - Matriarch of the Family
Lady Elisabeth Venables
Mathieu Venables (Presumed Dead)
Ad blocker interference detected!
Wikia is a free-to-use site that makes money from advertising. We have a modified experience for viewers using ad blockers

Wikia is not accessible if you've made further modifications. Remove the custom ad blocker rule(s) and the page will load as expected.